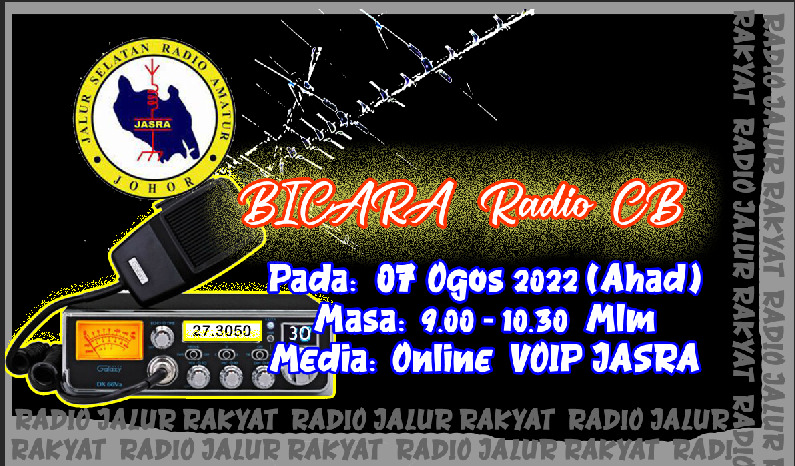 Biro Citizen Band JASRA dengan sukacitanya akan menganjurkan acara Bicara Radio CB pada:
Tarikh: 7 Ogos 2022 (Ahad)
Masa: 9.00 – 10.30 malam
Media: Menggunakan aplikasi VOIP JASRA
Antara tujuan Bicara Radio CB ini adalah
a. Penjelasan apa itu Citizen Band, tujuan kegunaanya, frequensi, radas, antenna yang digunakan, the do and don't, perbezaan dengan radio amatur dan lain-lain perkara yang berkaitan.
b. Memperkenalkan penggunaan server VOIP dan projek internet gateway melalui kaedah Radio Over Internet Protocol.
c. Merapatkan perhubungan dan persahabatan dikalangan rakan-rakan Citizen Band.
d. Soal jawab terhadap segala kemusykilan dan perkara lain-lain.
Semua rakan-rakan yang berminat tidak kira dari kumpulan / group CB mana sekali pun termasuk rakan radio amatur sangat digalakkan untuk mengikuti perkongsian ini yang tujuannya memberikan pencerahan dan pemahaman. Mudah-mudahan peluang ini diambil sebagai perkongsian.
Biro CB JASRA