Sumber: Facebook AMSAT-MY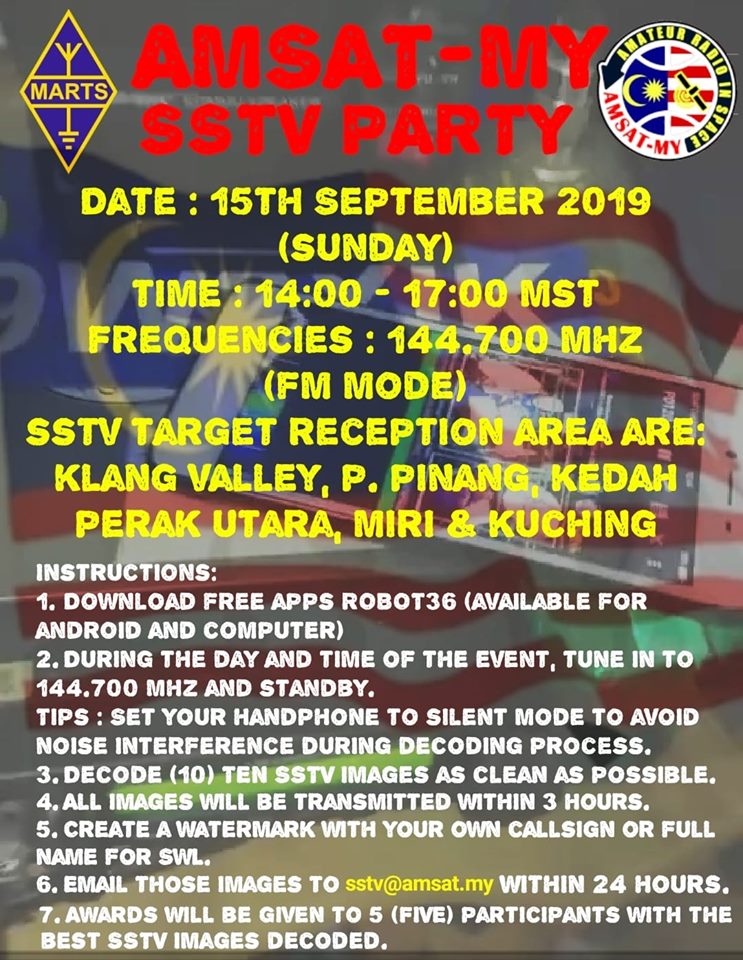 AMSAT-MY SSTV PARTY
Ini bukanlah satu pertandingan, tetapi hanya aktiviti menerima dan menyahkod imej SSTV dengan beberapa *arahan* ringkas yang perlu dipatuhi.
Tujuan: Untuk mendorong pengendali Radio Amatur untuk menyahkod imej SSTV (Slow Scan TeleVision). Aktiviti ini juga terbuka kepada SWL (Pendengar Gelombang Pendek).
Tarikh & Masa: 15th September 2019, Ahad, 14:00-17:00 MST.
Band & Mod: Frekuensi yang disarankan (+/-) for SSTV: 144.700 MHz (FM Mode – F3A)
Arahan:
1. Muat turun aplikasi percuma ROBOT36 (tersedia untuk android dan komputer).
2. Pantau frekuensi 144.700 Mhz pada masa yang ditetapkan dan siap sedia.
Tips : Setkan telefon bimbit anda ke mod senyap agar tiada gangguan bunyi semasa proses menyahkod imej.
3. Nyahkod dengan jelas dan sebaik mungkin 10 (SEPULUH) imej SSTV yang akan dipancarkan.
4. Semua 10 imej SSTV akan dipancarkan dalam masa 3 jam.
5. Letakkan watermark dengan CALLSIGN anda atau nama penuh bagi SWL.
6. Email imej SSTV yang diterima ke sstv AT amsat.my dalam masa 24 jam.
7. Awards akan diberikan kepada LIMA peserta yang berjaya menyahkod imej terbaik.
Semua imej akan dimuat naik ke Facebook AMSAT-MY oleh penganjur.
---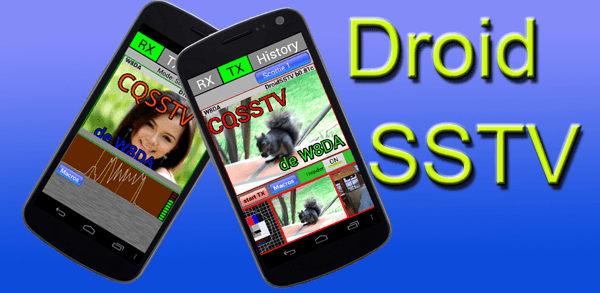 AMSAT-MY SSTV PARTY
Invitation to participate
This is not a contest but just an activity to receive and decode the SSTV images with a few simple instructions to follow.
Purpose: To encourage ham operators to decode the SSTV (Slow Scan TeleVision) image. It's also open to SWL (Short Wave Listener).
Date & Time: 15th September 2019, Sunday, 14:00-17:00 MST.
Bands & Modes: Recommended frequencies (+/-) for SSTV: 144.700 MHz (FM mode)
Instructions:
1. Download free apps ROBOT36 (available for android and computer)
2. During the day and time of the event, tune in to *144.700 Mhz* and standby.
Tips : Set your handphone to silent mode to avoid noise interference during decoding process.
3. Decode (10) TEN SSTV images as clean as possible.
4. All images will be transmitted within 3 hours.
5. Create a watermark with your own CALLSIGN or full name for SWL.
6. Email those images to sstv AT amsat.my within 24 hours.
7. Awards will be given to *FIVE* participants presented the best SSTV images decoded.
All images will be uploaded to AMSAT-MY Facebook by the organizer.